THE COOKED AND THE RAW

05.02.20–23.02.20

Curated by Catherine Benz

Delmar Gallery's annual focus exhibition of recent graduate work turns the spotlight this year on the next generation of ceramic artists.

"The Cooked and the Raw" features clay sculpture and installation by seven artists who have recently graduated with Honours and Masters degrees from the National Art School, Sydney College of the Arts and UNSW Art & Design.

Embracing a diversity of techniques and approaches to the medium, their exuberant work ranges from exploring the raw expression and tactility of clay to highly refined built forms and immersive environments.

Photograph by Silversalt


10 DEGREES HOTTER
with Serwah Attafuah, Nicole Barakat, Leila El Rayes, Haines & Hinterding, Gianna Hayes, Kerrie Kenton, Shivanjani Lal, Hyun Lee and EJ Son

12. 10. 2019 – 27. 11. 2019


curated by Kalanjay Dhir and T ian Zhang

10 Degrees Hotter was almost the name of this gallery but we couldn't all agree. Some thought it sounded like a boy band, others thought it was a mouthful. The phrase came out of a way of describing the conditions of being in Western Sydney— on any regular summer day, it can be five to ten degrees hotter in the west compared to out east. This artificial climate is created by the urban heat island effect, where hot air gets trapped in the vast concrete expanse between the mountains and the coast. Not to trivialise the real implications of this effect in the face of climate change, we saw this heat bubble as a metaphor for the energy that emerges out of the western suburbs and Pari as a way of keeping it here. 10 Degrees Hotter became a way to express our affection for the west and all that entails.

Extending from the title, the works in this exhibition incorporate references to heat in some way — whether it be climate, cooking, smoking or burning.

Mechelle Bounpraseuth serves up ceramic replica bowls of pho, mi goreng, chicken feet and Asian sweets. Here, Mechelle has assembled the greatest culinary hits of the western suburbs. Food is core to culture, and often central to identity — even if we're not always aware of it. What are the implications, then, of food safaris that drop into Western Sydney to consume, 'gram and leave? Conversely, could mi goreng usurp the meat pie as the quintessential suburban meal, and if so, what is the relationship between celebration, acceptance and assimilation? Mechelle's work makes all these things digestible.








Exhibition TWO, National Art School


Sydney Contemporary Art Fair

15.09.18 - 16.09.18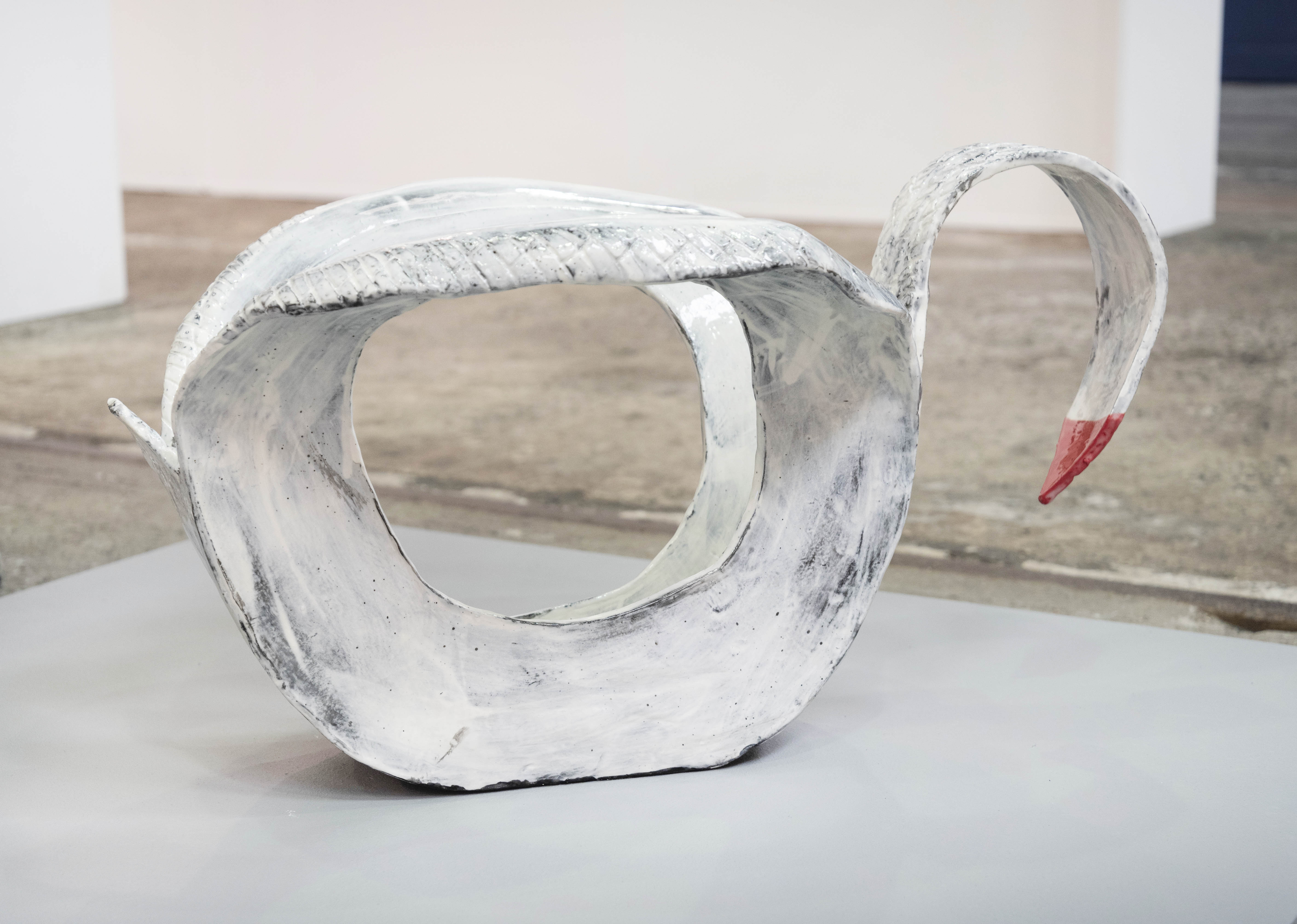 SOMETHING ELSE IS ALIVE: SYDNEY AND THE ANIMAL INSTINCT


17.08.17 - 18.03.18

Curators: Holly Williams & Glenn Barkley with Chloe Wolifson and Isabel Hesketh

Urbanised and sprawling, Sydney is deeply urbane yet paradoxically wild - where a secret city of animals, both seen and unseen, exists amongst us. We are coupled and tethered to the animal world in a symbiotic relationship that stretches from the present into the past.

Birds sweep through our skies and pick at our waste, cats rule social media networks, dogs are preened and prepped, and rats scurry endlessly within close proximity. Animals are depicted through deeply symbolic decoration – from public art to architectural motifs. Yet this relationship is often overlooked.

Something Else is Alive: Sydney and the Animal Instinct investigates animals in the city in various ways – from the humorous to the downright creepy, from the symbolically sacred to the secular.

This eclectic exhibition features objects drawn from the City of Sydney collection and archives alongside artworks by four Sydney-based artists. Weird animalia given to the City is presented alongside fascinating 19th century letters of complaint received by the Lord Mayor and a bespoke horn made for the unicorn on the Customs House facade. Something Else is Alive includes street photography, clusters of ceramic pigeons and a delicate school of fish swimming over the city model. Videos include the dog's eye view of Bailey Haggarty - rescue dog and Assistant Director of Seagulls at the Australian National Maritime Museum; dramatic footage of a Peregrine Falcon preying on a pigeon on a ledge of a local office building and how our city's relationship with Il Porcellino, the wild boar with a lucky snout.





COOKED


02.08.17 - 19.08.17

Curated by Lamington Drive and Jane Sawyer

Cooked brings together 8 contemporary artists producing ceramic objects with an illustrative, graphic style. The works range from small scale structures with finely rendered graphic detail, layered assemblages and wall-based reliefs to painterly large-scale vessels and humorous reproductions of utilitarian objects. Along with their ceramic practice, a number of the artists pursue other artistic disciplines – writing, drawing, painting, collage, architecture and sculpture – which further informs their work. Many of the pieces incorporate some aspect of cross-media experimentation which sees foreign elements and materials like glass beads, wood or paper being incorporated in the pieces


Photograph by Tatanja Ross